Proxy usage in SEO tasks has received a bad rep over the years due to black-hat users. But there is more to this story. And not every use in search engine optimization is tied to black-hat.
For example, you can use an SEO proxy package to research SERP positions from various locations to identify the real position your website has when users search for your targeted keywords.
What is a proxy for SEO?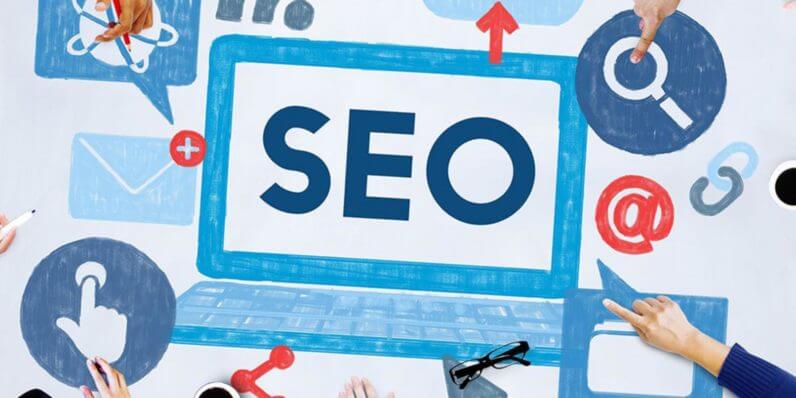 A proxy server, or several of them, can become a very powerful tool for you because you will be able to use and advertise the server's IP address to websites.
And this is what proxy for SEO is. A server that you can use to perform various SEO-related tasks.
Moreover, there is a little confusion created online. Many users and marketers think that for search optimization or marketing, dedicated servers are different than normal proxy servers. Fortunately, this is not the case. Because almost all proxies you can find online are HTTP proxies (tech wise).
They (the proxy packages) draw their name (SEO, Instagram, Sneaker proxies) from the platform for which they are allocated. In this way, you, as the user have the certainty that your IPs will connect to the online platform. At the same time, the provider knows what IPs and where to allocate them.
When to use private proxies?
You can use them anytime. There is no set rule of how often, when and where to use private proxies in your SEO tasks.
You should use your IPs as often as you need. And this depends on how you use them: manually or to automate tasks.
For example, if you use your IPs manually, you can check weekly for SERP rankings changes through different IPs. In this way, you will have a better picture of how search engines rank your website for various regions or countries.
On the other hand, if you use your proxies to automate tasks, chances are that you will use them on a daily basis, especially if you set your tools to run on a server.
Where can you private proxies for SEO?
Let me tell you a secret!
All proxy providers offer SEO proxies in one way or another. How's that?
Well, there is one major difference between other types of packages sold by providers and SEO ones. This difference is given by the way IPs are used.
When performing SEO tasks, you don't have to log in any account through your proxies (as in the case of social media marketing where you have to login accounts). This is why, for SEO, basically you can use any private proxy package you can find online. Basically, any IP will do the job.
Why? Because through your server you will only access search engines or various websites. Thus, the only so-called feature that private proxy servers need to qualify for as an SEO package is to have a clean history with search engines to be able to connect to them.
What proxies can I use for my SEO?
This is the question that will save you a lot of money if you do your homework.
The truth (that many providers tend to hide) is that you can use both public and private proxy servers for SEO tasks.
As I mentioned above, because you use your IPs to access web pages to research and gather data and you don't need to connect an account through your IPs, any IP address that you can find can do the job. The only condition is that this IP has a clean history and is able to access the selected domain.
Another thing you should think of before considering which type of proxies you can use is what you are trying to achieve. This is where private proxies are more useful than public ones.
For example, if you are an advertiser and you want to check SERP and ads displayed in specific cities or countries, you will need dedicated IPs from those areas. IPs that you can rely on. Here's where public proxies won't do a great job because they might be offline when you need to do your research. Hence, private ones are a better fit because you are their user and they are accessible anytime.
3 Key Features of SEO proxies
Here are the three main features for which private proxies for SEO are a better fit than public ones and why you should consider using them.
Guaranteed Uptime – with an SEO proxy package, most providers offer a 99% uptime. This means that your IPs can be used anytime without fearing they went offline.
Clean private proxy IPs – when you buy a package for SEO you receive also the guarantee that you will get working IPs with clean history that are able to connect without any issues.
Monthly randomization – Because you don't need to tie your proxies' IPs to online accounts and you can use almost any IP address, you can ask your provider to issue new IPs for your package. Most providers offer a monthly randomization feature. This means that for your 100 proxies, you can ask them to issue other IPs every month. Basically, getting brand-new IPs that you can use for your project.
The best proxy packages for SEO are cheap!
Yes! This is right and you shouldn't be fouled by providers trying to say otherwise.
When buying your SEO proxies, you should seek the cheapest working IPs you can find.
Because you don't need virgin proxies and because you don't have to tie your IPs to online accounts, you shouldn't pay a premium for your proxies. Hence, even the cheaper ones will do the job without any issue.
So, pay attention to providers that seek to convince you otherwise.
However, this is true only for SEO proxies. Because if you seek to buy other packages, you might need to get more expensive, virgin proxies, in which case the higher price is a guarantee that you won't get used or flagged IPs.
How are proxies used in SEO?
There are several ways in why public or private proxies are used in SEO.
When you use a proxy server, you get a different IP address and location (the server's one). This is the same IP address that you advertise to search engines and other websites. Hence, when you visit a website through the IP address, the website will be able to see only the proxy server's IP address and return content tailored to it.
For example, if you visit Google and YouTube from a proxy server with a UK IP, both websites will return the .co.uk version and its specific content for the UK. On the other hand, if you visit them from a proxy from Toronto, you will receive the Canadian version and its specific content.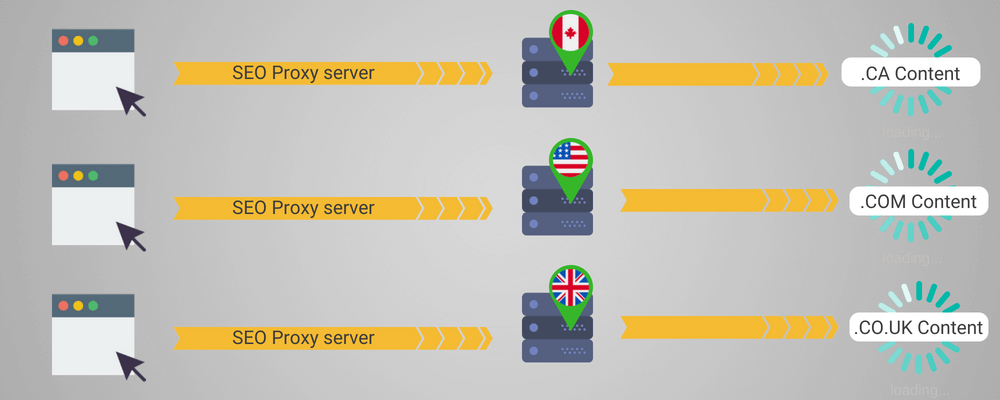 I think you can see know the power and advantages offer by proxy servers. Because this is why you can use them for SEO.
Here are three uses specific to SEO for which you should consider using proxies.
Scrape for guest post opportunities – You can search online and scrape the web for guest post opportunities to expand the reach of your website
Research SERP position – You can use different IP address to access SERP rankings from different areas and get an overview over the real ranking of your website
Research geo-targeting SERP – By using International proxies, you can research and check the rankings in various cities and countries
Frequently Asked Questions
Here's a list of some of the most asked questions.
Can I use shared or dedicated proxies for SEO?
Yes, you can use even shared proxies. Actually, you can use any type of proxy you can find online: public or private. The only condition is that the IP is clean and able to connect to websites and search engines.
Is it wrong to use proxy packages for SEO?
There is nothing wrong with using proxies for SEO. It all depends on how you want to use them. If you want to do research, then you can use them. However, it is wrong to do black-hat SEO through your proxies (which we strongly advise against).
How effective are private proxies?
A tool's effectiveness depends on how it is used. Proxies are effective for research purposes. However, they aren't very effective for other types of tasks.