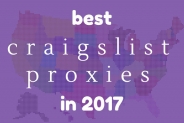 Best Craigslist Proxies In 2017
Advertising and posting on Craigslist can be a lucrative business for experts in local marketing. Those successful at posting and selling on classified ads websites can scale their operation by using the best Craigslist proxies available in 2017. By using these proxies, marketers can scale their operations by either posting several ads in the same area or by extending in other areas.
For example, a boat selling company can use Craigslist proxies to increase the number of their classified ads in their area. Furthermore, they can use proxies to extend and post in any other given area suitable to their business.
However, not every proxy provider, consequently not every private dedicated proxy, is suitable to be used for classified ads websites. And with proxy packages ranging from 5 to several tens of proxies, purchasing from the wrong provider can be a costly mistake. So, we looked around the web to find the best Craigslist proxies or at least to find proper proxies for posting on classified ads websites.
5 BEST CRAIGSLIST PROXIES 'MUST HAVE'
Before deciding on a proxy provider and buying a classified ads proxy package, one must consider several factors. While these factors are technical, they can easily be understood by most users of classified ads websites.
1. CUSTOM LOCATION
Best Craigslist proxy packages must offer the right to choose the area/city where you want your proxies allocated. It is pointless to ask for classified ads proxies from Miami and being allocated Chicago proxies. So, the first factor to consider is if the provider has servers in your desired area. And if the proxy package you buy has the option of choosing your IP locations.
2. DEDICATED / FRESH IP
Using proxies and several IPs for posting on Craigslist is not a new game. Marketers have been doing it ever since the inception of online classified ad boards. So websites are no strange to multiple ads posted through proxies. Therefore, the best Craiglist proxies must have fresh IPs, dedicated and virgin for the underlying website. This means that your provider should allocate proxies never used for that website before.
3. MULTIPLE LOCATIONS
Similar to the point (1), a proxy provider offering Craigslist proxies must have multiple locations under their management. Preferably one server in each U.S. state.
Why's that?
Definitely, you will not use proxies from each state. Are you mostly interested in proxies in your area right? The capability of having servers in every US state is a subtle quality that your provider must have. By having multiple locations around the United States, it implies that the provider has done its homework.
Moreover, it means that their proxies are good enough to allow them country-wide expansion. So, when interested in proxies for a particular location, look for providers with servers from all over the United States.
4. LARGE IP POOL
This factor is strongly related to the above point. You will use proxies to connect to only a few classified ads websites in your area. Therefore, you must ask your providers to allocate you proxies from multiple subnets.
5. IP REFRESH
You will use your proxies to connect to a few online platforms. And the fewer platforms you connect to, the higher the chances that some of your ads and IPs will be flagged. Once in a while, you will need to refresh your proxies to have working proxies. Thus, best Craiglist proxies' packages must offer IP refresh option for every 30 days or every billing cycle.
WHO'S SELLING THE BEST CRAIGSLIST PROXIES
From all our research, we shortlisted a few providers and ended up with a list of 4 proxy providers which packages can qualify for best Craigslist proxies. We couldn't decide on one provider.
All of them have the above-mentioned characteristics factored in their Craigslist proxy or Classified ads proxy packages. Therefore, we decided to randomly list them below.
IMPERFECTION IS THE NAME OF THE GAME
There if no perfect proxy providers. After deciding on the best Craigslist proxy package for your needs, contact the provider via their support channel and make sure that you will get the custom Craiglist proxy package tailored to your needs.