*This website contains affiliate links. If you click on these and make a purchase, we will receive a small percentage of the sale.

Residential & 4G

1-day Pricing Plans From $2.35
4G Mobile & Residential IPs
8 Million Residential And Mobile IPs
Both HTTPS & SOCKS 4G IPs
No Monthly Commitment
24-Hours Money-Back Guarantee

Residential & 4G

2

72 million IPs pool
City-level IP Geotargeting
7 Days Free Trial
Bandwidth-based pricing
Unlimited connections/threads
Pay-as-you-go static residential IPs

Residential & 4G

3

Residential IPs starting from $19
2-Hours To 2-Days Money Back
PORT-based pricing
Unlimited bandwidth
You've likely heard of residential proxies, but probably don't know much about them. You may need them and not even know it!
Residential proxies are one of the most in-demand proxy services today.
Keep reading, as we'll discuss what residential proxies are and what they're used for, as well as how they compare to datacenter proxies.
What are Residential Proxies?
To answer this question, we'll first have to learn what proxies are in general. A proxy server is a computer server that acts as an intermediary between the Internet and its[proxy] users by forwarding their web requests. Its main purpose is to enable data exchange and mask its users real IP and location.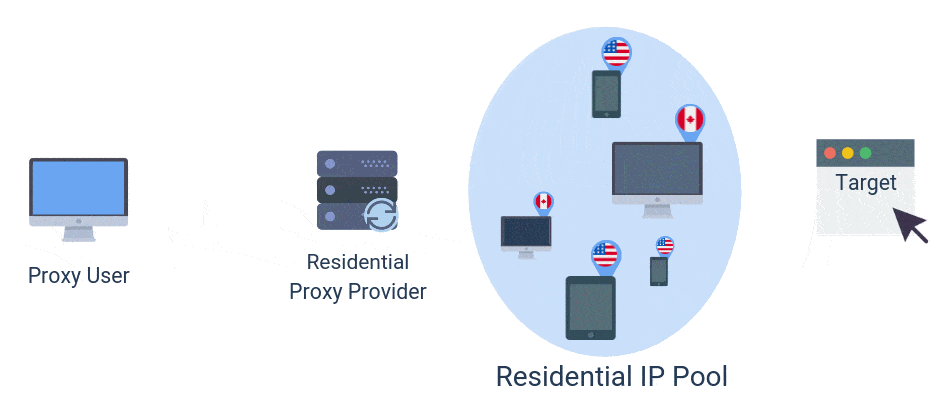 A residential (rotating) proxy is an IP address that is attached to a certain location, just like any other type of IP address. However, using residential proxies enables you to be anonymous on the Internet and hide our location, by masking your web requests behind another Internet user's IP address (residential proxies use other normal Internet user's connections to forward your requests to websites). They hide your IP address and rotate it (on every request or every few minutes) with a new one (another residential IP). This IP address then changes with every request that you make.
You can consider your home Internet connection as a residential proxy from your ISP (Internet Service Provider). By that, we mean that if using a certain tool (or tools) you can "rent" or "borrow" your home Internet connection's IP as a residential proxy – that others can use.
For example, if you are using now (or previously used) Hola VPN (the free VPN app) you have rented your real IP address to be used by the Luminati rotating residential proxies service – and through your Internet connection and VPN use, besides your traffic, you have forwarded other users' traffic too. Because this is how residential proxy providers get their IP inventory – they develop a network of devices connected to a service (app or VPN) and besides your real traffic, they also forward their residential proxy users' traffic.
In fact, plenty of people use it, either for their personal or professional purposes. That's why real residential proxies are more expensive. But surely, you will be able to find some cheap residential proxies that are actually good.
UPDATE: Static and (or) rotating residential proxies
Luminati is the only residential provider that developed static residential proxies.
This means that now you can have static residential proxies at your disposal at any given time. So you don't have to worry about blocked IPs and slow connection (that happens when your residential proxies rotate into a slow IP).
But this doesn't mean this is the ultimate service and that you should buy into it.
Actually, your project's requirements should dictate if you should buy rotating residential proxies or static ones.
Because if you need a large IP pool (quantity or quality) as in the case of scraping and data mining projects, then you should go for rotating IPs.
On the other hand, if you need several clean-history IPs (quality over quantity), then you should consider static ones.
Can I buy a single residential proxy?
It doesn't mean this. Luminati's pricing of static residential proxies is similar to their other residential proxies. They bill your usage, not the actual number of IPs.