*This website contains affiliate links. If you click on these and make a purchase, we will receive a small percentage of the sale.
Are you looking for backconnect proxies? We tested several backconnect proxy services to find the best ones. Here are the top backconnect proxy services.
Residential & 4G

1-day Pricing Plans From $2.35
4G Mobile & Residential IPs
8 Million Residential And Mobile IPs
Both HTTPS & SOCKS 4G IPs
No Monthly Commitment
24-Hours Money-Back Guarantee

Residential & 4G

2

72 million IPs pool
City-level IP Geotargeting
7 Days Free Trial
Bandwidth-based pricing
Unlimited connections/threads
Pay-as-you-go static residential IPs

Residential & 4G

3

Residential IPs starting from $19
2-Hours To 2-Days Money Back
PORT-based pricing
Unlimited bandwidth

Residential & 4G

4

6 million IPs pool at affordable prices
No monthly commitment
Residential and 4G mobile proxies
Bandwidth-based pricing
Unlimited bandwidth for 4G proxies
What is a backconnect proxy
A backconnect proxy is an intermediary proxy server that allocates a different IP address from its IP pool. The backconnect proxy server can serve you a new IP address in two different ways:
Time-based rotation: you are assigned a new IP address for a set period (ranging from a few minutes to a few hours)
Requests-based rotation: IPs rotate on every request sent through the backconnect proxy pool or for individual websites
How do backconnect proxy IPs work
To better show how they work, here's a diagram from residential ones.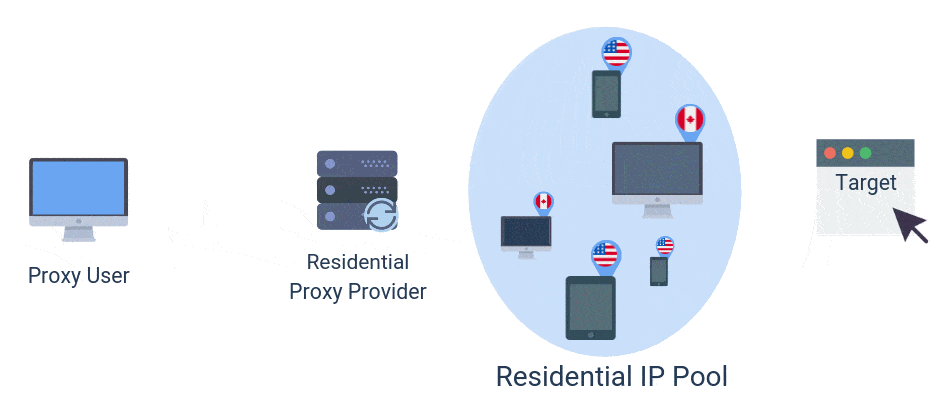 Requests path when using residential proxies:
You send Request 1 to the central proxy server
The central proxy server forwards your Request 1 to an IP from its pool
You send Request 2 to the central proxy server
The central proxy server (depending on the rotation settings) forwards your Requests 2 through a different IP address.
Proxies rotate (backconnect) in their pool either on a time-based or request-base.