*This website contains affiliate links. If you click on these and make a purchase, we will receive a small percentage of the sale.
Instant Proxies Review Highlights
Instant Proxies is one of the few proxy providers that doesn't focus on selling dedicated proxy packages for web services. They sell only "private proxies" with a promise to provide working proxies for your project.
You can use their proxies for web mailing and there are no specific mailing limits. However, SMTP is blocked by their proxies.
InstantProxies' proxy packages work only through IP authentication. The username/password authentication method is not available. Maximum allowed IPs are 10 and you can update this anytime in your admin control panel.
Our Main Take
They are the only proxy provider offering a testing tool for their proxies. Basically, you select the web server on which to test their proxies and they will run a ping through their proxies.
We think you should use this tool before buying from them. The guys at Instant Proxies don't focus on selling proxy packages for dedicated web services like social media proxies or classified ads proxies. However, they encourage using the testing tool first and then buying from them.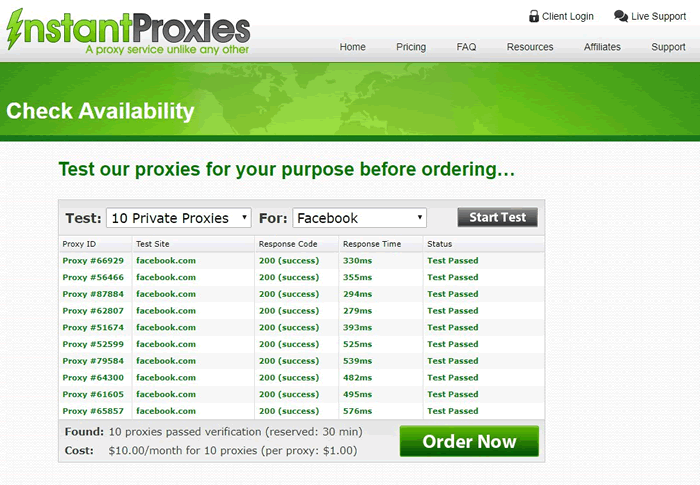 We think that you should consider Instant Proxies services for scaling an already existing operation. There are two arguments for this. First, their pricing – regardless of the package you want to buy all their dedicated private proxies cost $1. Second, with the help of their proxy tester, they promise to offer working proxies for most web services.
Thus, if you need to scale an already existing operation and lower your costs, you can try Instant Proxies, use their testing tool and buy a few proxies. Then test them in real life, through your project and then buy again the necessary number of IPs for properly scaling your project.
Top Benefits
HTTP Proxies
Undisclosed Number of Server Locations
7 Days Money Back Guarantee

Instant Proxies' packages best used for SEO and scaling an already existing operation
| Monthly Price | $25 |
| --- | --- |
| Number of Proxies | 25 |
| Proxy Format | HTTPS |
| Proxy Type | Virgin Proxies |
| Proxy Randomization | Monthly |
| Price Per Proxy | $1 |
Market Talk – What Customers Say About Instant Proxies
Various users have reported fast proxies with comments like: "These proxies are damn fast". Whereas other ones are displeased that Instant Proxies allow connecting to their proxies only through IP authentication.
Mixed reviews and diverging experiences have been reported by customers using their proxies for social media. Also, there are customers saying that they have used Instant Proxies for more than one year on Instagram and other social media networks. At the same time, other users reported they couldn't effectively use Instant Proxies because they had connectivity issues with Social media platforms.
One of their users pointed out something worth considering. In general, most proxy providers incur a cost higher than $1 for an IP. This is why most proxy providers charge more than $1-$1.5 for a dedicated private proxy. On the other hand, Instant Proxies asks for $1 for dedicated proxies. This particular user pointed out that at this price point, Instant Proxies can't actually provide "dedicated" proxies – actually, based on our research, this is the lowest price point a provider can go when offering dedicated proxies (the price bracket is actually $0.9-$1 – so anything bellow this should raise some issues).
As you can see there isn't a general market consensus about Instant Proxies services. So, we go back to my recommendation of testing a few proxies before placing a large buy order.
Instant Proxies Customer Support and User Experience
The whole experience, both user experience and buying experience on InstantProxies.com revolves around their proxy testing tool. On the homepage, there isn't an order form. Just the proxy tester.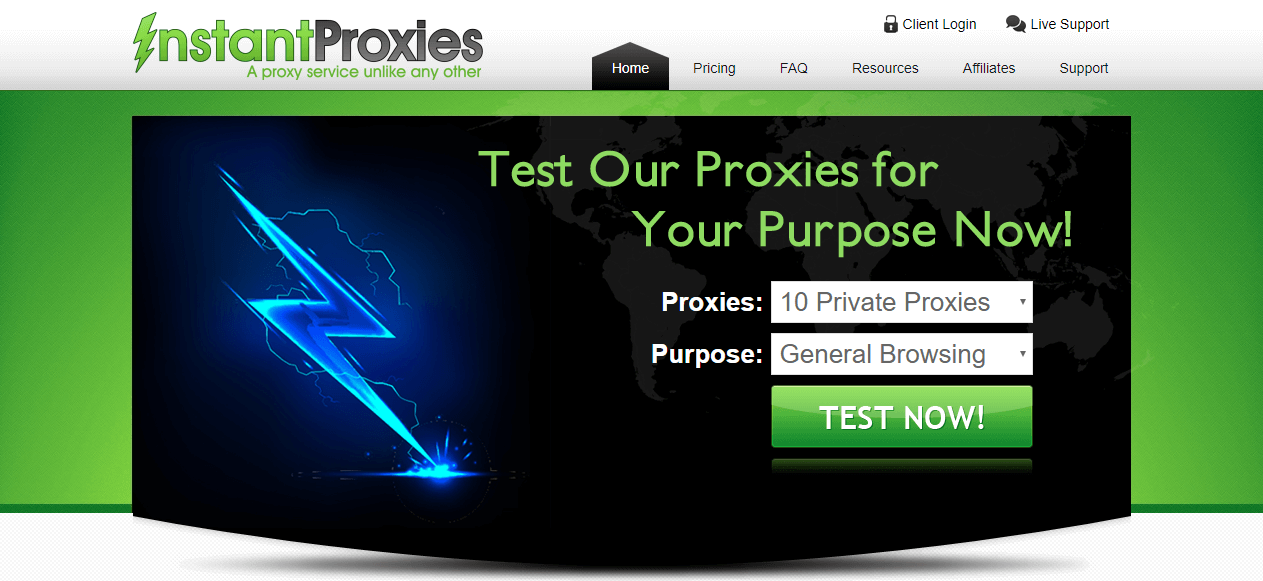 Instant Proxies Review – In conclusion
Instant Proxies sells only private proxies and they focus (and recommend) using their proxy tester tool before actually buying proxies for them. Instant Proxies, while not selling dedicated proxy packages for various web services, rely on providing the proof (test) that their regular private proxies work on your select web service. Moreover, several of their customers reported using Instant Proxies successfully on Instagram and other social media. Thus, you could use them too. But of course, test them first.
---
Proxy Servers Locations
---
Undisclosed locations
InstantProxies has a number of locations both in the US and Europe.
Should you need a specific location, submit a ticket to their support and then we will check whether they have proxies available near that location.