*This website contains affiliate links. If you click on these and make a purchase, we will receive a small percentage of the sale.
NewIPNow Review Highlights
NewIPNow provides only private proxies packages with a simple pricing method: each IP cost $1 per IP but you can't choose your location. This makes New IP Now a great provider if you need to buy private proxies for automation tools where you don't need to login accounts.
Their proxies working with SEO tools and Social media automation tools. No guarantee for Ticketing websites or Sneakers websites.
Our Main Take
You should consider New IP Now only if you need private proxies for general purposes as for scraping or research.
Top Benefits
HTTP Proxies
Undisclosed Server Locations – their IPs are allocated randomly, based on the number of proxies you buy
3 Days Money Back Guarantee

NewIPNow proxies best used for general purpose and automation
| Monthly Price | $10 |
| --- | --- |
| Number of Proxies | 10 |
| Proxy Format | HTTPS |
| Proxy Type | Private Proxies |
| Locations | 2 |
| Price Per Proxy | $1 |
Market Talk – What Customers Say About NewIPNow
Most of NewIPNow users are bulk buyers, meaning they buy proxies in large volumes, with packages that have more than 100 proxies.
The interesting thing is that some of NewIPNow customers ask for doubling their orders or buying more IPs. This means one thing only, that NewIPNow provides working private proxies and their customers are pleased with what they bought.
NewIPNow Customer Support and User Experience
NewIPNow website hasn't been updated in a long time. However, this doesn't mean that it's not functional. On the contrary, the website is stripped of unnecessary information and you can easily find their proxy packages and order page.
NewIPNow offers support through their ticketing service but they also have a forum presence where they communicate with their customers.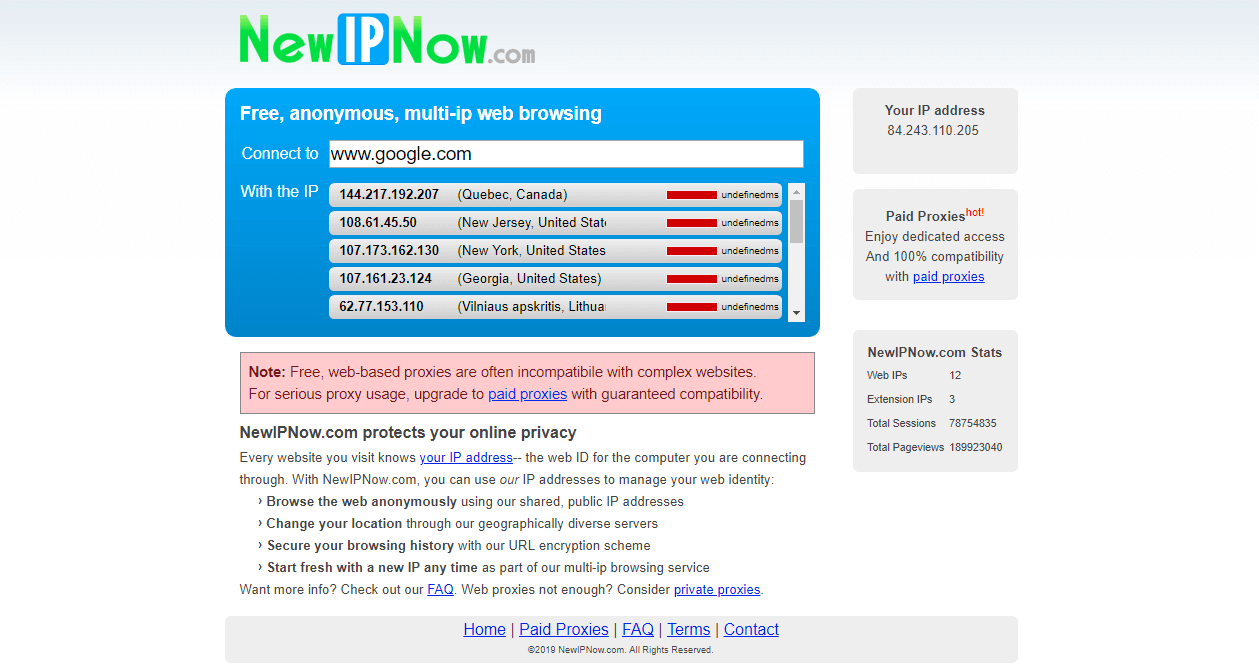 NewIPNow Review – In conclusion
NewIPNow is a small proxy provider that offers only private proxies. And you should consider buying from them if you need general-purpose private proxies.
Furthermore, based on market talk and on their previous customers, NewIPNow is a great provider for buying proxies in bulk.
---