*This website contains affiliate links. If you click on these and make a purchase, we will receive a small percentage of the sale.
Proxy Bonanza Review Highlights
Proxy Bonanza offers some of the cheapest proxy packages with their shared proxies starting at $0.38 per IP. However, for this small price, there is a catch. Their shared proxies have a data transfer limit. Meaning that if you transfer more than the allocated data for your IPs, they will stop working. 
On the other hand, Proxy Bonanza doesn't have a data transfer limit for their Exclusive (dedicated proxies) or International Proxy packages. And their International Proxy packages, with more than 109 locations, is another factor for which you should consider them a viable option for your project. They offer both HTTPS and SOCKS5 proxies.
Provider with data transfer quota and charges starting with $0.5/GiB.
Our Main Take
You should consider Proxy Bonanza for two reasons:
Their cheap shared proxies –

if you need a lot of IPs for low data transfer requests.

Their Internation proxies – with 109 locations, Proxy Bonanza has one of the largest proxy server networks outside the US.
Top Benefits
HTTP/SOCKS Proxies
30 Days Money Back Guarantee
Proxy Bonanza proxies best used for automation and International marketing
| Monthly Price | $169 |
| --- | --- |
| Locations | 112 |
| Proxy Type | HTTP & SOCKS5 |
| Bandwidth | 26.84 GB |
Market Talk – What Customers Say About Proxy Bonanza
Around the market, Proxy Bonanza is recommended for their International Proxy server locations. They are seen as one of the few proxy providers capable of offering IPs from exotic locations.
Proxy Bonanza Customer Support and User Experience
Proxy Bonanza has a great, yet simple website. Everything is at your disposal and you can easily navigate around it. Furthermore, they also offer Mozilla Firefox and Google Chrome add-ons, which you can install to use and switch through their proxies' IPs.
The customer support desk of Proxy Bonanza can be reached only through their support ticketing helpdesk or by email.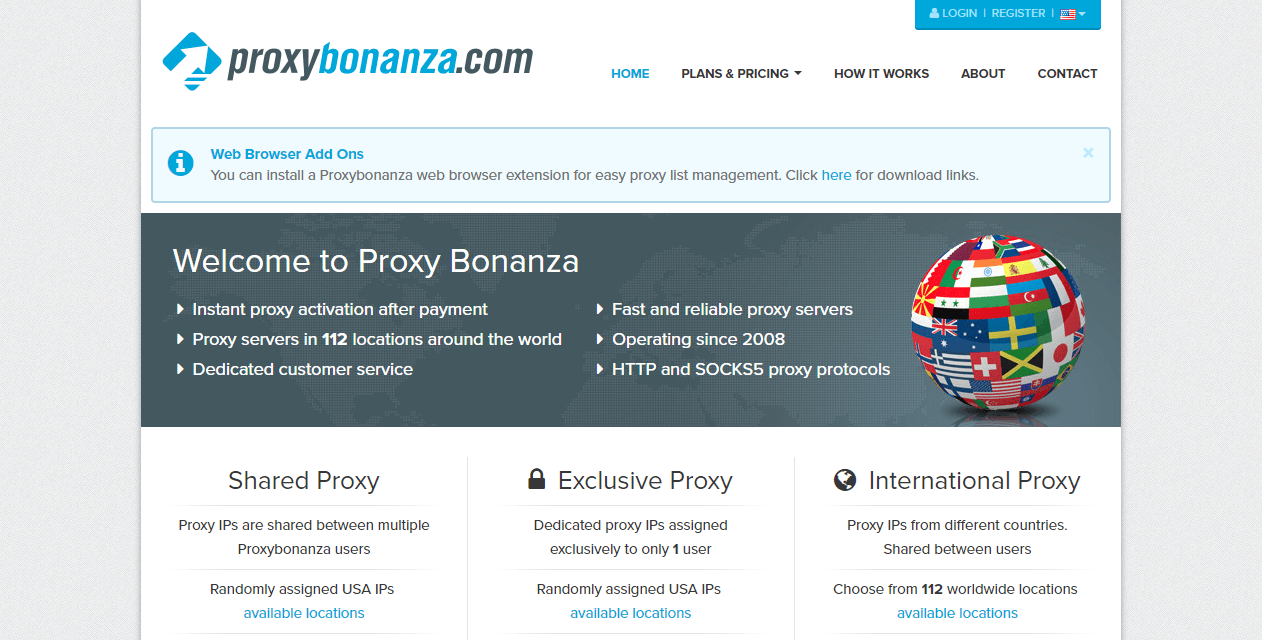 Proxy Bonanza Review – In conclusion
Proxy Bonanza is one of the few proxy providers capable of offering extremely cheap shared proxies (with prices starting $0.38 per IP). And at the same time, they offer International Proxy packages with IPs from 109 locations. Therefore, you should check Proxy Bonanza if you need cheap shared proxies or international IPs.
---
Proxy Servers Locations
---
US Locations:
Arizona
Atlanta GA
Buffalo NY
Chicago IL
Columbus OH
Dallas TX
Denver CO
Herndon VA
Houston TX
Indiana
Jacksonville FL
Kansas City MO
Kenmore WA
Las Vegas NV
Los Angeles CA
Miami FL
Monticello IO
New Jersey NJ
New York NY
Oak Park CA
Pennsylvania
Phoenix AZ
Portland OR
Raleigh NC
Salt Lake City UT
San Jose CA
Stafford TX
Tampa FL
Tulsa OK
Walnut CA
International Locations:
Argentina
Australia, Brisbane
Australia, New South Wales
Australia, Sydney
Australia, Bunbury
Austria
Belgium
Brazil
Bulgaria
Canada, Ontario
Canada, British Columbia
Canada, Quebec
Chile
China
Cyprus
Czech Republic
Denmark
Egypt
Estonia
Finland
France
Germany
Greece
Hong Kong
Hungary
Iceland
India
Indonesia
Ireland
Israel
Italy
Japan
Latvia
Luxembourg
Mexico
Netherlands
New Zealand
Norway
Panama
Peru
Philippines
Poland
Portugal
Romania
Russia
Saudi Arabia
Singapore
Slovenia
South Africa
South Korea
Spain
Sweden
Switzerland
Taiwan
Thailand
Turkey
Ukraine
UAE
United Kingdom
Vietnam