*This website contains affiliate links. If you click on these and make a purchase, we will receive a small percentage of the sale.
25% DISCOUNT – USE: BPPSSL25OFF
SSLPrivateProxy Review Highlights
One of the biggest names in the private proxy industry, SSLPrivateProxy offers both cheap shared proxies and virgin dedicated ones. Their extended proxy network is also a great feature if you want to buy geo-specific IPs for classified ads websites or local SEO campaigns.
SSLPrivateProxy is the proxy provider with packages suited for any sort of Internet activity.
Their virgin dedicated proxies are suited for highly regulated websites such as Instagram and Classified Ads websites.
A recommended provider for Pinterest and social media proxies.
The major difference between general use proxy providers and SSLPrivateProxy is that they (SSLPrivateProxy) offers proxy packages with virgin IP allocated for highly restrictive platforms or websites and multiple US locations, ideal for classified ads website or local research.
Our Main Take
They are one of the few all-around proxy providers. You can consider checking SSLPrivateProxy's packages when searching for proxies for your project
Top Benefits
HTTP/HTTPS Proxies

38 Server Locations

by which 33 spread across the US

7 Days Money Back Guarantee
SSLPrivateProxy proxies best used for social media, classified ads, gaming or sneaker websites
| Monthly Price | $42 |
| --- | --- |
| Number of Proxies | 10 |
| Proxy Format | HTTPS |
| Proxy Type | Virgin Proxies |
| Proxy Randomization | Monthly |
| Price Per Proxy | $4.2 |
Market Talk – What Customers Say About SSLPrivateProxy
Various users reported using SSLPrivateProxy packages for extended periods of time, from a few months to a few years without any issues.
Similarly, some proxy users consider their packages pricier than others' but given their offer of virgin IPs and low IP ban rate, the premium paid on their proxy is compensated by the low risk incurred during their use.
SSLPrivateProxy Customer Support and User Experience
SSLPrivateProxy offers fast customer support response time via its ticketing service and Skype.
You can easily navigate and locate resources or information even if SSLPrivateProxy's website has a large amount of content, such as a blog section, knowledge base and FAQ section.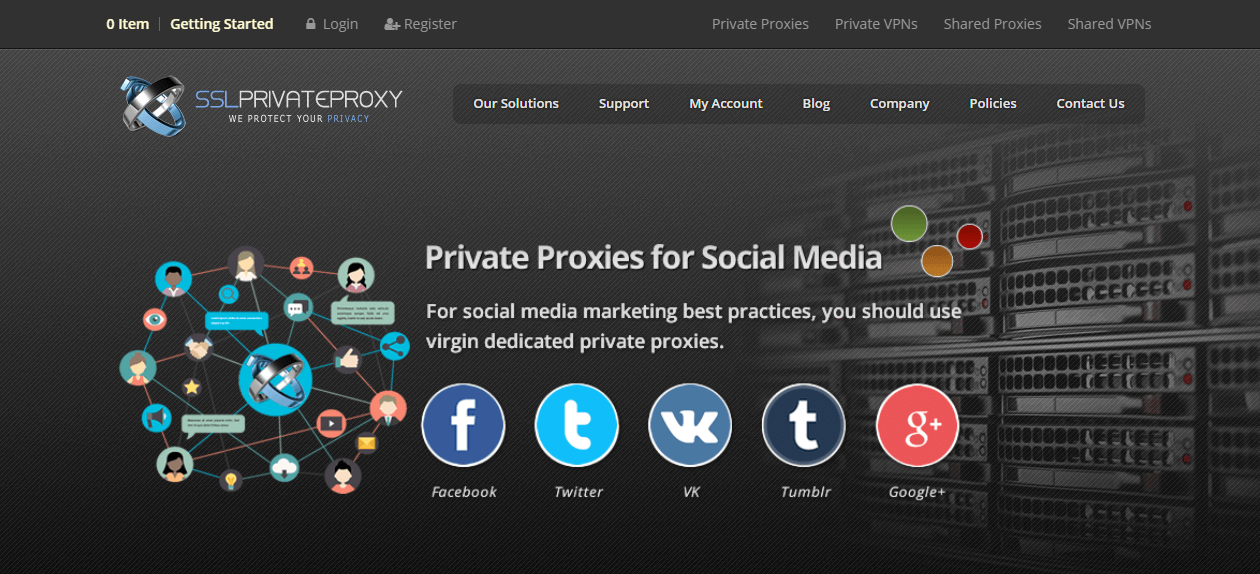 SSLPrivateProxy Review – In conclusion
SSLPrivateProxy offers some of the best working proxies for social media and other restrictive platforms such as sneaker selling websites and gaming ones. They offer a dedicated package, usually with virgin proxies for some of these (restrictive) platforms. And because they are one of the biggest names in the industry, you should consider checking their website.
---
Proxy Servers Locations
US Locations:
Albuquerque NM
Atlanta GA
Boca Raton FL
Boston MA
Buffalo NY
Charlotte NC
Chicago IL
Columbus OH
Dallas TX
Denver CO
Greensboro NC
Detroit MI
Herndon VA
Indianapolis IN
Jacksonville FL
Kansas City MO
Los Angeles CA
Miami FL
Minneapolis MN
Nashville TN
New York NY
Oakland CA
Oklahoma City OK
Philadelphia PA
Phoenix AZ
Portland OR
Salem NH
Salt Lake City UT
San Jose CA
Scranton PA
Seattle WA
Southfield MI
Toronto ON Canada
International Locations:
Amsterdam NL
Sittingbourne Kent UK
Frankfurt DE
Velizy Villacoublay, Paris FR
Zurich Switzerland
Similar Providers
Check Provider
HighProxies
Dedicated Packages for Instagram and Craigslist