*This website contains affiliate links. If you click on these and make a purchase, we will receive a small percentage of the sale.
10% DISCOUNT – USE: BPP10OFF
HighProxies Review Highlights
HighProxies is one of the few proxy providers offering dedicated proxy packages such as Instagram Proxies, Craigslist Proxies and Ticketing Proxies. They also offer shared and regular private proxies, together with VPN solutions. Provider of private proxies for professional marketers.
They offer virgin proxies for Instagram and Ticketing. Provider targeting experienced, successful Internet marketers. Their attention to technical details is outstanding.

Our Main Take
HighProxies is one of those proxy providers that you don't hear much about, but they seem to always deliver and provide working proxies for their customers.
If you need Instagram proxies or other dedicated packages, HighProxies should be on your provider's list. And check their website and prices before deciding to buy from them.
Top Benefits
HTTP/HTTPS Proxies
3 Days Money Back Guarantee
HighProxies proxies best used for Instagram and social media
| Monthly Price | $28 |
| --- | --- |
| Number of Proxies | 10 |
| Proxy Format | HTTPS |
| Proxy Type | Virgin Proxies |
| Proxy Randomization | Monthly |
| Price Per Proxy | $2.8 |
Market Talk – What Customers Say About HighProxies
There is a lot of (positive) talk around the market about HighProxies' Instagram proxies. They are some of the best working proxies for Instagram.
And so far we haven't heard anything negative about HighProxies' products. Like we said, this provider's proxies seem to work just fine, both for Instagram and for other web platforms.
HighProxies Customer Support and User Experience
HighProxies' website is easy to use and intuitive. Everything you need is either on their top bar or footer menu. They also provide a list (and map) with all their proxy servers, so you can have an overview of their network.
HighProxies offers support through their ticketing service, through which you can choose from several support departments (from Pre-sale to the Abuse one). Furthermore, they also provide support and assistance for their users on various forums.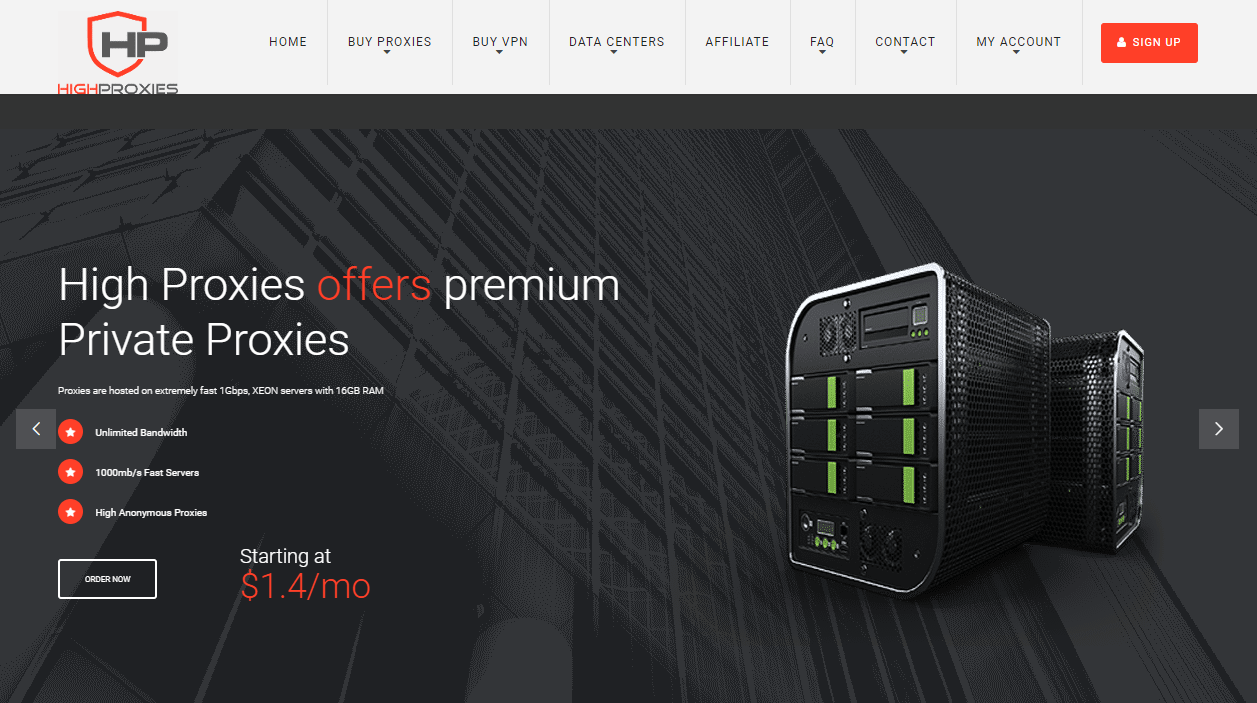 HighProxies Review – In conclusion
As it was mentioned above, HighProxies is doing something right as they always provide working proxies and their clients recommend them for their Instagram Proxy packages.
---
Proxy Servers Locations
---
US Locations:
Atlanta GA
Buffalo NY
Chicago IL
Charlotte NC
Dallas TX
Los Angeles CA
Las Vegas NV
Miami FL
New Jersey NJ
Phoenix AZ
Portland OG
San Jose CA
Seattle WA
Washington DC
Similar Providers
Check Provider
SSLPrivateProxy
Virgin private proxies working on restrictive platforms