*This website contains affiliate links. If you click on these and make a purchase, we will receive a small percentage of the sale.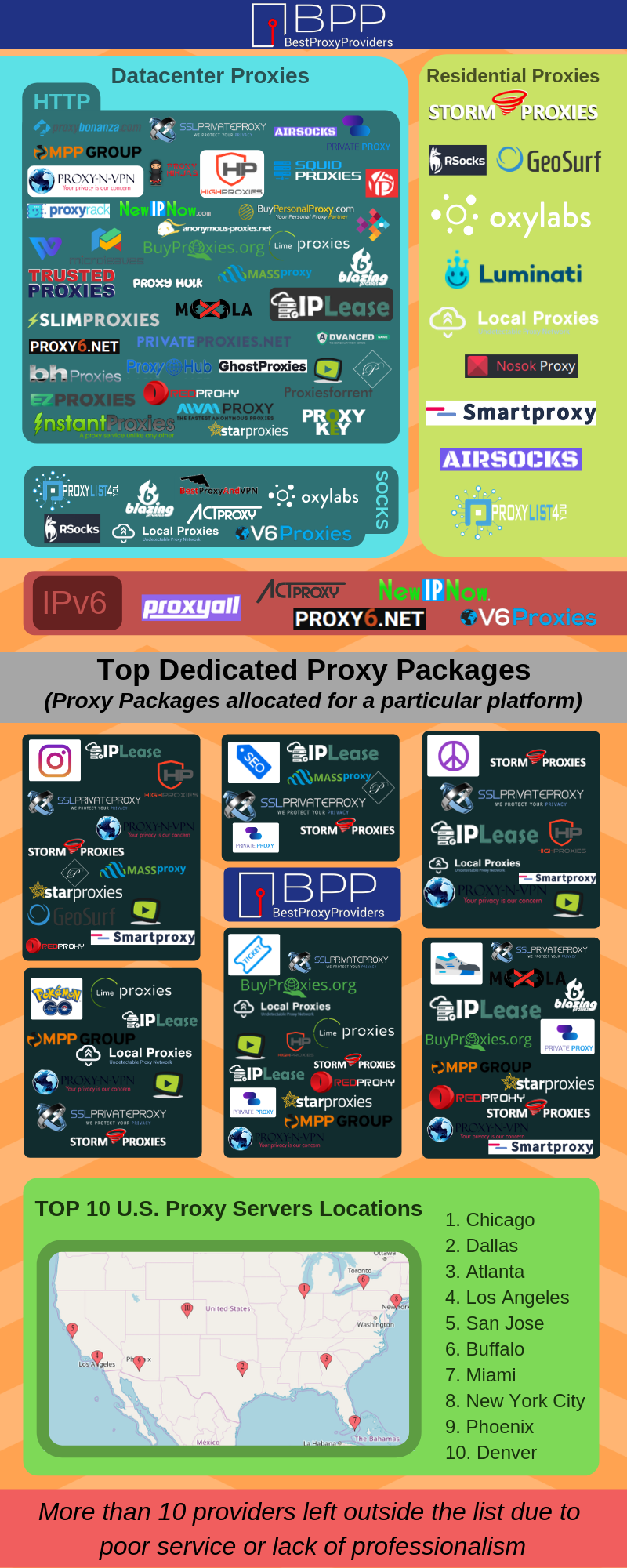 This is it! After a long period of time researching the private proxy market, we have created this infographic as an overall map of the whole market.
The first thing to notice is the number of active providers. To this date, there are more than 70 providers offering datacenter or residential proxies. However, more than 10 providers didn't make the cut into the final version of this list due to either poor service or lack of professionalism.
Are proxy providers on this list reliable?
Unfortunately, we can't say that all proxy providers listed here are worth your project's money. Some of them still have a below-average level of service. But, we have included them on the list to show the extent of the current private proxy market.
This means that you should take other factors into consideration before buying from a proxy provider.
Research before buying proxies
Before placing an order to buy cheap proxies or dedicated IPs from a provider, always look for reviews on forums like BlackHatWorld.com or on private proxy review websites (hint: us, BestProxyProviders).
Always check what their current or previous customers say about a provider's customer service or proxy quality.
Sometimes, customer service is more important
Not many buyers are aware, but sometimes customer service is more important (even a deciding factor) when buying proxies for a couple of reasons:
Using proxies is a recurring service – you need to develop a good, long-term relationship with your provider
Prompt inquiry/ticket responses when servers are down – sometimes proxy servers, or a provider's entire network, could be down for several minutes or hours, so is best to choose a provider that has fast response time so you don't have to way long periods of time for a simple ticket answer.
Buy dedicated packages when available
Avoid buying cheap shared proxies, hoping to save some money.
As mentioned above, proxies are not a one-time-use type of product. And in the long run, going for the cheapest service could actually cost you more money in lost opportunities, accounts blocked or server downtime.
This is why, whenever possible, buy dedicated proxy packages for your service. For example, if you are developing a social media campaign on Instagram, buy Instagram proxies. And if you want to develop gaming accounts, you can choose Pokemon Go proxies.
Always look first to see if there are dedicated proxy packages on the market.