Your Private Proxy

*This website contains affiliate links. If you click on these and make a purchase, we will receive a small percentage of the sale.
No automation tools allowed
PROS
HTTP/HTTPS and SOCKS proxies
24-hours free proxy trial
CONS
More expensive than other providers
Only PayPal payments allowed
Refunds only for technical reasons
Add your review
YourPrivateProxy Review Highlights
YourPrivateproxy, despite selling private proxies (which are used almost exclusively for automating tasks) does not allow using their proxies for social media automation, SEO automation or mailing. On the other hand, YourPrivateProxy is one of the few providers offering SOCKS proxies and they are sold at the same price as regular HTTP/HTTPS proxies.
Your Private Proxy does not allow their proxies for Mailing, ScrapeBox, xRumer, TicketMaster or Torrents.
They don't allow any automation tools to pass through their proxy servers.
Our Main Take
You should consider using YourPrivateProxy and buying private proxies from them for your personal use only, as you would buy a VPN.
One great feature offered by YourPrivateProxy is their 24 hours free trial. Basically, you can test your proxies' IP before buying them. This is worth checking.
Top Benefits
HTTPS/HTTPS/SOCKS

Proxies
3 Days Money Back Guarantee. YourPrivateProxy issues refund only for technical reasons. And they won't refund your purchase if their private proxies can't connect you to a certain web service or platform.
YourPrivateProxy proxies best used for your personal use
| Monthly Price | $29.97 |
| --- | --- |
| Number of Proxies | 10 |
| Proxy Auth | IP, User and Pass |
| Proxy Format | HTTPS, Socks 5 |
| Proxy IP count | max 5 |
| Proxy IPV | IPV 4 |
| Proxy Randomization | Monthly |
| Price Per Proxy | $2.99 |
Market Talk – What Customers Say About YourPrivateProxy
Around the market, some of their clients have reported using virgin proxies from YourPrivateProxy for extended periods of time. This can only mean that, while YourPrivateProxy does not allow their proxies to be used for SEO or mailing, their clients are using their IPs for platforms where virgin proxies are a must, as for social media automation.
YourPrivateProxy Customer Support and User Experience
YourPrivateProxy offers 24/7 assistance via live chat and email. And the average response time via email is 12 hours.
YourPrivateProxy doesn't have the most user-friendly website, however, once you spend a few minutes on it, you will familiarize and understand its structure.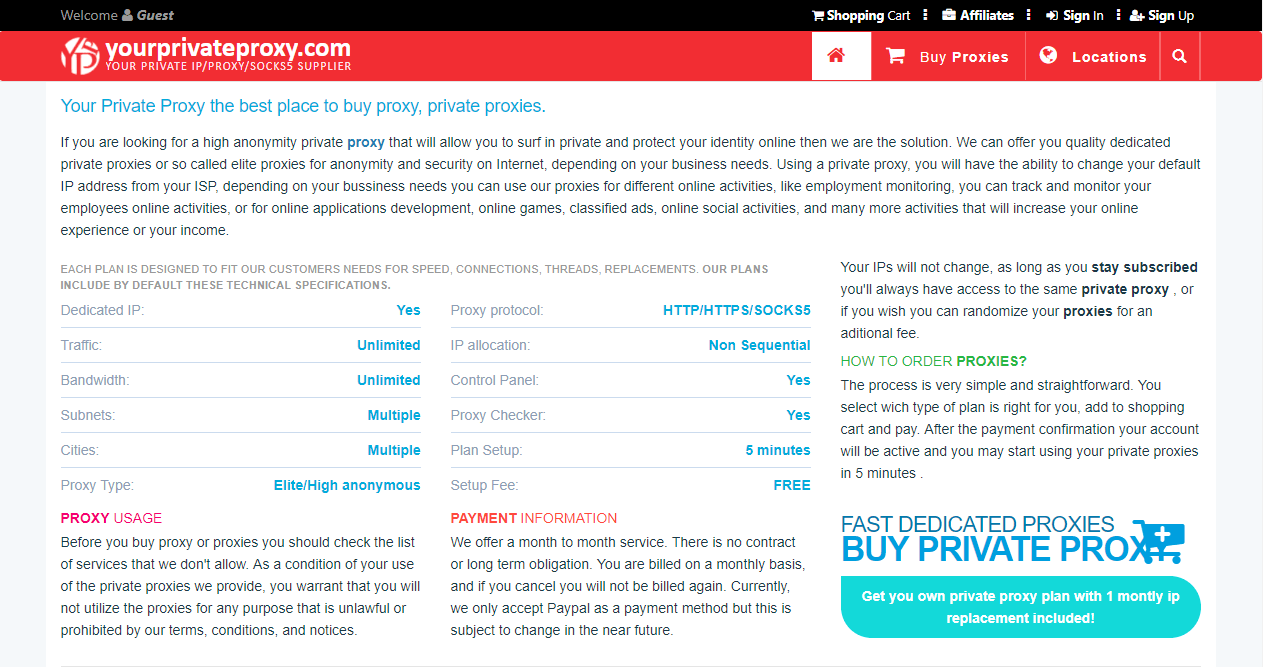 YourPrivateProxy Review – In conclusion
YourPrivateProxy is not your regular proxy provider. They limit their proxies' usage and do not allow automation for SEO or mailing.
However, you should consider their 24 hours Free Proxy Trial because YourPrivateproxy is one of the few proxy providers offering free trials for their IPs.
Furthermore, some of their clients reported they bought virgin proxies from YourPrivateProxy, so, in conclusion, some automation can still be performed through their proxies.
---
Proxy Servers Locations
---
US Locations:
Atlanta
Boston
Charlotte
Chicago
Dallas
Denver
Detroit
Huston
Las Vegas
Los Angeles
Miami
New York
Philadelphia
Phoenix
San Jose
Seattle
Washington
International Locations:
Amsterdam, NL
Frankfurt, DE
London, UK
Toronto, ON
Vancouver, BC
Similar Providers
Check Provider
Proxy Bonanza
HTTPS and SOCKS proxies from 109 international locations