*This website contains affiliate links. If you click on these and make a purchase, we will receive a small percentage of the sale.
Here's everything you need to know about when to use and where to buy cheap shared proxy packages for your online projects. While this is a buying guide, I have to mention that this is not a usage guide.
Hence, you should consider this guide relevant only when looking to buy shared proxies from online providers. We will focus on the elements and factors you need to take into account when looking at providers of shared IPs. But, this list is not completed. And should you need more information on behalf of one proxy provider, do not hesitate to contact them and ask all your queries.  
Here's what's covered in this article:
When to buy cheap shared proxies
There is no hard-truth about when to use one proxy package or another. In theory, any private or public proxy server can be used to forward requests to and from web servers. However, this theory doesn't always apply to every use case. This is why, to mitigate this risk and provider unrestricted connectivity, proxy providers started offering both shared and dedicated proxy packages. And it is up to the user choosing the proxy type that he needs to buy and use.
In other words, you're the one that needs to decide whether to use shared or dedicated IP addresses. Therefore, you need to know when to use one and when the other. And as I explained previously, there are disadvantages of using cheaper private proxies.
You can use cheap shared proxies for any online project that does NOT require connecting to online accounts on large web platforms. Let me explain this a bit.
Buy and use shared proxy packages when:
You don't need to tie an account's connection to a shared IP address

Web resources are accessed and loaded without connecting an online account
In other words, you can think of shared IPs as disposable ones: if you can use without further content blocking restrictions and if it doesn't matter for you what particular IP you use for any given request, then you can buy shared packages.
However, not every project that needs different IP addresses to work can use shared proxy packages. This is why I have to mention something about premium IPs as well.
When to buy premium proxy IPs
Most providers, besides cheaper shared packages, they offer also premium proxy packages. These are dedicated IPs and in some cases virgin IPs.
You can have a look at some of the biggest names in the industry and you will see that they offer packages for different online platforms. And most often, premium proxies borrow the name of the platform on which they will be used.
For example, if you need to buy proxies to use on Instagram, you will find Instagram proxies. But if you need multiple IPs for gaming, there are Pokemon Go proxies.
Some will consider premium proxy packages a marketing trick (they are usually more expensive than normal private ones), but this is not the case. There's one particular reason: Connectivity.
As you already know by now, when buying multiple IP addresses, regardless if they are shared or premium ones, you want them to work on the platform where your project is developed. And this is what premium proxies offer. They offer connectivity without issues to the web platform for which you are buying them.
So, when you buy social media IPs for Instagram, the provider must offer you working IPs for Instagram. On the other hand, if you buy shared proxies, you don't have any certainty they will work on Instagram. And the provider is not required to guarantee connectivity if the package you buy is not "branded" for a particular web platform.
This is why you should consider buying premium proxies when:
The web platform you need to access is more restrictive

You must login and tie an account's connection to your IP address
If the above conditions are not met, then you shouldn't consider premium or private IPs. Instead, you should buy shared proxy packages. Preferably on a discount, so you can get more IPs for your budget.
No setup difference between premium and shared proxy packages
By now, I talked about connectivity issues for which you should consider buying premium packages over shared ones. But there is one more mistake made by most users: they think cheap shared proxies have a different setup than the more expensive premium proxies.
Fortunately, this is not the case. Most proxy servers have almost the same setup. The only difference is between public and private servers, where the former that perform any credential checks and anybody can forward requests through its server.  
So, between private shared and private premium servers, there isn't any setup difference. The only notable difference is in usage and how many people are using these proxies at the same time. For example, a shared IP's resources (threads and bandwidth) are shared among its users. Whereas a private premium (dedicated) IP is allocated to one single user and he is the sole user of the server's resources.
In other words, for a cheaper price per IP (because shared IPs' prices are split among the server users) the resources are split between the server's users. So, both the costs and benefits of shared proxy servers are split among its users.
How to find a provider with a large IP pool
Now, once we are done with the technical bit, let's consider how to find providers with large IP pools.
Why large pools? Because this is an indication of multiple subnets under management. Subnets from which the provider allocated your IPs. And if you need to change your IPs (as part of the monthly randomization offered by most providers) you know the provider has plenty of resources.
The biggest tell of a large IP pool
Actually, there are three major tells indicative of large IP pools:
Number of servers location

Number of shared and dedicated proxy packages

Provider's age
Let's get them one by one.
The number of servers – the more servers a provider has the more IP ranges he manages. So a provider with 20 servers in 15 US states has a larger IP pool than a provider with 3 servers in 2 states.
The number of proxy packages – the more proxy packages (for different web platforms) a provider has (both on sale or on support) the better.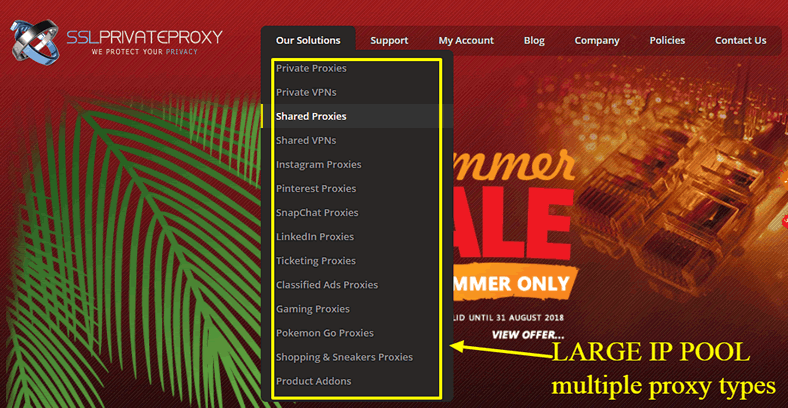 Provider's age – this is an important factor, especially when looking for long-term proxy users. The provider's age (the time since they are on the market) it's an indication that their IP pool is large enough because they surely had to expand. And if they are active on the market for quite some time, it means they have happy clients, meaning they are doing something alright to support their clients' business.
Why you might NOT find the best provider online
By now, you probably looked online for shared or cheap shared proxies. However, online you might not find the best providers. The reason is that most of the proxy market works on word-of-mouth referrals.
And some successful providers don't even rank in Google's top positions. Hence, do not expect to get great IPs and the best prices by simply accessing the first result on a search page. Moreover, use the guidance provided above on how to find a provider with a large IP pool to gauge your findings if a provider is worth considering buying from or not.
Why free proxy lists are not a valid option
Now, that we talked about private ones, let's consider free proxy lists. Some consider using them instead of shared ones because they are cheaper and their projects don't require accounts tied to dedicated IPs.
But, free proxy servers should never be considered an alternative to private ones. The main reason is their connectivity and poor performance. Just consider this for a moment: a free server can be used by anybody, so its uptime, bandwidth and performance are split among all its users.
And if there are 100 users on a server, its bandwidth will be split among all these users. This is why you should never use free proxy lists when developing online projects that require multiple IPs.
The risk of using shared proxies
Getting back to private proxies. I must mention that there is one risk associated with using cheap shared proxies. Because these IPs were previously (or currently) used by other providers, another user could have an abusive behavior and block the server's IP address on the platform on which you want to use it.
For example, if you use shared proxies to scrape Amazon and perform market research, but another user of this shared proxy uses the same IP on Amazon and has an abusive behavior, banning the IP address on amazon.com you won't be able to use it anymore.
Even if you had a fair-usage behavior, the proxy server's IP is banned and you can't use it anymore on amazon.com
This risk is inherited by any cheap shared proxy packages. And it's another reason for which you should never use shared IPs on websites where you need to login accounts (social media, sneaker selling or gaming websites) because if somebody else blocks the IP, your account could be temporarily blocked or permanently banned.
But, if you are aware of this risk and buy your IPs for projects where you don't need to login accounts, you can ask the proxy provider to refresh your IPs monthly. Thus, if somebody else blocks an IP shared with you, you can always change it and ask for another one.
Where and how to use cheap shared proxies
So, where can you actually use shared proxy packages? There isn't a definitive answer. In theory, you can use your shared IPs on any web platform where you don't need to log in an account.
Regarding how to use your IPs, there isn't an imposed restriction. Hence, you can use them to test geo-targeting websites and ads (to check how they display from multiple locations).
Another use of shared proxies is web scraping, especially on rate limiting websites. Here, multiple IPs can be used for sending multiple requests at the same time, without risking having one particular IP address limited or blocked by the website.
Bottom line: should you buy cheap proxy IPs?
Shared IPs should be your go-to place when looking to get IPs for automating tasks and hiding your IP address from smaller platforms that aren't so popular. In fact, this is why you should buy shared proxy packages for smaller websites – you won't risk getting flagged or blocked IPs.